75th Commemoration of the United Nations Charter
This virtual commemoration celebration was held on June 26 – 27th in San Francisco. 
Events Past, Present and Future
HIHR believes in open dialogue, education and community involvement. We believe inclusion is the only way to any equitable system. That is why we have sponsored and participated in and continue sponsoring and participating in community events. Feel free to peruse through our archives of videos. To watch and/or participate in our future events check our social media, Facebook or LinkedIn.
Future
Present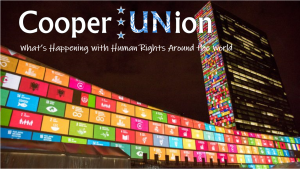 Cooper UNion appears on Think Tech Hawaii every first and third Tuesday of each month at 11 a.m. HST (GMT – 10:00). Cooper UNion covers important human rights issues in the international arena and Hawaii.  You can stream it live on Think Tech Hawaii or for past shows, visit our YouTube.
Human Rights Educators

HRE USA's regional chapters coordinate human rights education activities and communicate with members and organizational partners in their areas. Regional Representatives are very involved in HRE advocacy, serve on HRE USA committees as well as on the boards for local and national organizations working in the area of human rights.
To get involved locally, contact the representative nearest you.
Articles
A genuine step for the Biden-Harris administration would be to formally establish a standing coordination mechanism across all relevant parts of the US government to consider the UPR recommendations and develop a meaningful plan for implementation.
This article is prepared by First Peoples Worldwide and Joshua Cooper, Director of the Hawai'i Institute for Human Rights and co-chair of the US Human Rights Network's UPR Task Force. Since 2019, the US Human Rights Network has educated and engaged communities to create people-centered campaigns highlighting human rights violations. The voices of the people continue to echo from the ground to the UN in Geneva, offering a vision for equity and equality. The US Human Rights Network offers opportunities to organize with UN Missions so that the UPR reflects the will of the people inside the U.S. with a message that the world is watching and wants the U.S. to live up to its international human rights law obligations and constitutional commitments.
We have seen over the past four years that the U.S. political system is unable to hold leaders accountable even to its own Constitution, and we're watching as the system's legitimacy crumbles, along with protections for basic rights and the most vulnerable.